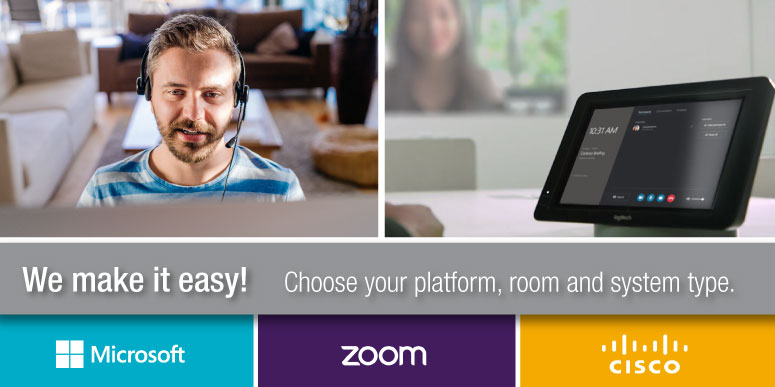 COVID-19
The COVID-19 pandemic has dramatically impacted all organizations. Now more than ever, collaboration technologies are critical for both working from home and as part of your re-entry strategy.
The content in this guide was developed prior to COVID-19, but we have made some updates to include the estimated safe capacity for each room setting using CDC's social distancing recommendations. The technology solutions remain relevant and reflect the newest solutions from Microsoft, Zoom and Cisco.
As the way we work has changed, so have the technologies and our need for a seamless experience. Conferencing spaces need to connect people locally and virtually, be compatible with mobile technology, and share a common user experience. Designing collaboration spaces and choosing the right technology systems can be an overwhelming process, but we make it easy.
Download the Conferencing Design & Budget Guide to:
Assess your

technology design goals
Choose your technology platform

– Microsoft, Cisco or Zoom

Choose your room type

– huddle, meeting, boardroom, multipurpose or work café

Choose your system type

– all-in-one solutions, bundled systems, integrated conferencing

Explore conferencing solutions