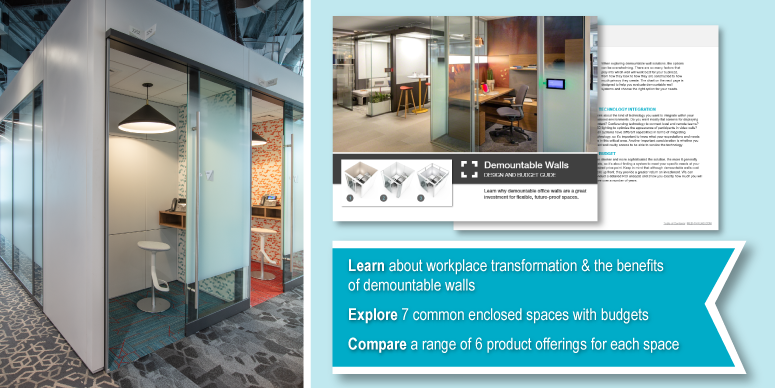 COVID-19
The COVID-19 pandemic has dramatically impacted all organizations. Now more than ever, private spaces are critical to support focused work for individuals while minimizing the spread of illness.
The content in this guide was developed prior to COVID-19, but we have made some updates to include the estimated safe capacity for each room setting using CDC's social distancing recommendations. The demountable walls solutions remain relevant and reflect the newest solutions from Steelcase.
Steelcase's portfolio of movable wall systems offer a range of options to create flexible and affordable enclosed settings within your floor plan. When you are investing in demountable walls, it is important to understand the many options available, as well as how to budget properly during the early planning stages of your project.
In this guide, you will learn how to choose a wall system based on soundproofing, aesthetics and technology integration. Compare renderings of common enclosed spaces based on levels of product specification to make the right choice for your space.
Download the Demountable Walls Design and Budget Guide to:
Learn about workplace transformation and the key benefits of demountable walls
Learn how to choose the right wall system
Explore common enclosed sample spaces with budget pricing and the estimated safe capacity for each room type based on the CDC guidelines

Phone Booth
Enclave
Private Office
Huddle Room
Meeting Room
Boardroom
Multipurpose Room

Compare renderings for each space that represent the different product offerings
Get cleaning recommendations for demountable wall systems