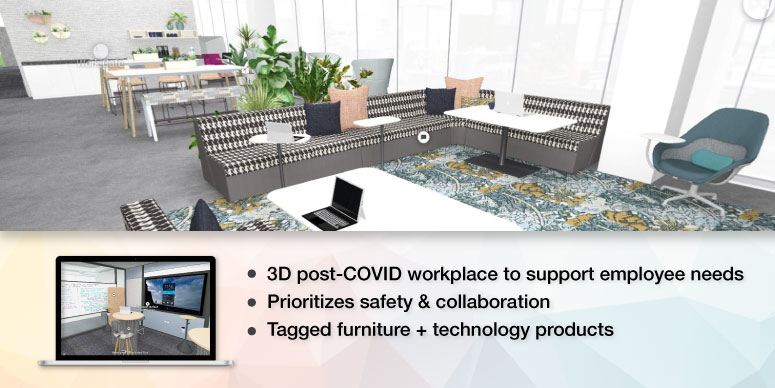 Our immersive Reimagined Office Virtual Tour allows you to navigate a corporate office design that gives employees a reason to return safely to work.

The virtual tour is hosted on a separate website, which you will receive a link to. It's an intuitive, self-guided experience.
Access The Reimagined Office Virtual Tour to:
Explore an immersive 3D post-COVID workplace adapted to current employee needs
Explore 8 neighborhoods in the new normal workplace that support different kinds of work
Learn about safe and collaborative new workplace technology integrated throughout the space
Utilize product callouts to inform ideas for your new office design
View the sneak peek video below:
Steelcase research has shown that 72% of employees worldwide expect a hybrid approach to work, but what does that mean?
WHY: A Safe and Compelling Return to Work
There is no one-size-fits-all approach to office design to entice employees back to the office. The truth is work from home experiences are widely different, and employees have different needs and wants in their workplace design. In order to draw employees to return to the office to boost innovation and creativity, the workplace has to be better than it was before.
WHAT: The New Normal Workplace

It is critical to create a new office design that meets these new employee expectations and supports equitable experiences for remote participants as well as local employees. We've designed eight workplace neighborhoods that provide a range of settings for different kinds of work, from focusing alone and socializing, to collaborating and learning using interactive office technology. Learn about safe and collaborative workplace technology integrated throughout the space.