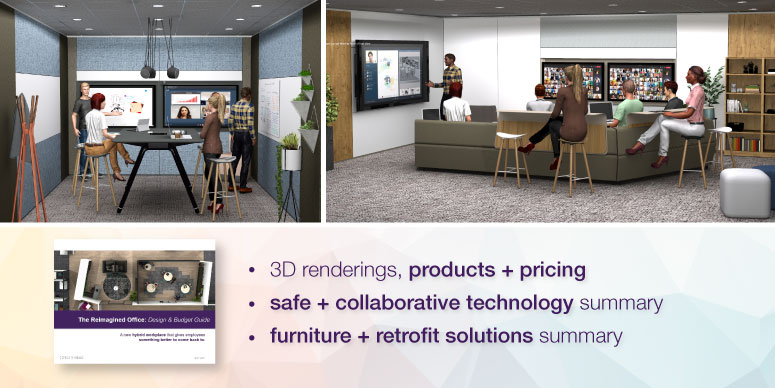 The Reimagined Office Design & Budget Guide showcases a new hybrid office space that gives employees something better to come back to.
This interactive guide is designed to help CEOs, CFOs, CIOs, HR, IT, and facilities experts. Visualizing the possibilities of a hybrid office layout is a great first step in planning a new office design to engage employees, address new expectations, and help them return to something better. Workplace technology, powered by Logitech room systems, integrated throughout the space supports collaboration and an equitable experience for everyone, no matter where they are working.
How it Works:
The guide includes 3D renderings, functional descriptions and products for each application within different neighborhood settings with primary and supporting modes of work.
Budget:
Each application is coded to provide an installed budget range that includes furniture as well as technology and demountable walls as appropriate.
Access The Reimagined Office Design & Budget Guide to:
Explore

8 neighborhoods in a hybrid office space

that

support different kinds of work

Learn about safe and collaborative new workplace technology

integrated throughout the

space

Explore

flexible office furniture settings and retrofit solutions for your

new office design

organized by space type

Optimize hybrid work with Logitech conferencing room systems